Back In The Groove(Orange & Red Swirl)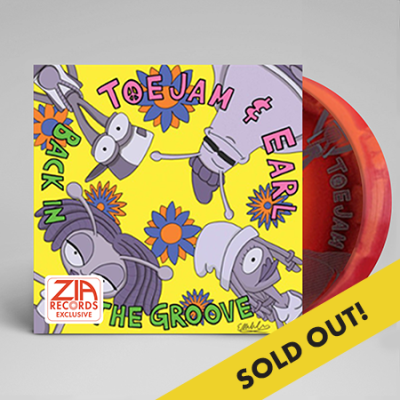 Back In The Groove(Orange & Red Swirl)
Zia Records & Bull Moose Exclusive
Limited To 250
LP
SOUNDTRACK
ENJOY THE RIDE
UPC: 00200098625714
Release Date: 11/15/2019
| | |
| --- | --- |
| | |
| In stock – should ship in 1-2 days | |
ON SALE FRIDAY 11/15 AT 9AM PST - Limit of 1 per person.

Free Shipping over purchases of $30!


Red

&

Orange

Swirl - Limited to 250


Co-Exclusive with Bull Moose


Enjoy The Ride Records, in conjunction with Humanature Studios, are proud to present ToeJam & Earl: Back In The Groove - the Video Game Soundtrack. Performed and composed by Nick Stubblefield and Cody Wright, this funk-infused '90s inspired album is a real throwback for those of us who grew up playing the Sega games. Featuring artwork created by Eddie Mauldin (including an exclusive drawing in the 350 gsm gatefold jacket based on the intro to the game), the 140 gram double LP hosts a screen print on the D Side, showcasing the game characters Latisha, Lewanda, ToeJam and Earl.

-Features Brand New artwork by Eddie Maudlin paying homage to one of the most influential hip hop albums of the 90s

-Pressed on 2xp 140 Gram Vinyl with Screen Printed D side

-Housed in a 350gsm gatefold jacket with an exclusive comic drawing of the opening intro to the game

-Bass, Guitar & Keyboard played By Cody Wright. He is known for his virtuosity on the electric bass using picking, tapping, and fingerstyle, along with his genre-bending style and adaptability and onstage energy.


Track List:


Side A
1 Theme Refunkified
2 Peabo's Party Jam
3 Rapmaster Rocket Racket
4 Rocket Rap
5 Alien Breakdown
6 Aqua Jam
7 Big Earl Bump
8 Funk Funk Funk E
9 Lewanda's Love
10 Mellow Groove
11 Ode to Sharla

Side B
12 Old School Otis
13 Groove Ship
14 Back in the Groove
15 Bloona's Dance Mix
16 Dark Level Funk
17 Big E On Da Bass
18 Flarney's Funkomatic
19 Hyperfunk Zone
20 Lamont's Funky Brain
21 Rapmaster Rhythm
22 This Crazy Planet

Side C
23 The Bass Master
24 Funkopotamous Freejam
25 Aqua Jam Unchained
26 Funk Down Under
27 Funktastic Planet
28 Slow Groovin
29 Boomin Bump
30 Groovin Like a Pulsar
31 Back in the Groove with Vocals